the current count of rooms booked under the CycleFish name at "A Holiday Motel" is 6, the event list shows 8 so far as attending and a bunch of maybe. They still have 8 rooms available at this location plus 2 larger 2 room suites good for a family (Defcon) or "good friends"

There is another biker group - Vulcan Riders staying at the hotel on our weekend and they now have the flyer as well as it being circulated all around Maggie Valley and Ashville now - so this may end up being a nice group for the run and a chance to make some new friends..hopefully we can really pack it in here and have some fun!
ATTENTION:
There will be T-Shirts (advanced order) - info & prices coming shortly - thanks to Brother Hollywood
There will be Stickers - Limited Edition! (buy them there) - thanks to Brother Taco
There will be Patches - "Rockers to go under the CycleFish Patch - Half Round Patch" - price will be $5 for the rocker - thanks to Brother RexTheRoadDog

Watch for an update on pricing and ordering here in the next few days.
A limited amount Small (2x3) patches are ordered. Similar to the posted artwork. This is ONLY the patch below the CF patch. When they arrive an announcement will be made. They will be for sale at $5 each with "ALL" money going to the charity for the Homeless. Attendees to the event will get first dibs. After that they will be available to anyone. Contact Thebulldog or me to reserve yours. Reserve yours now!!!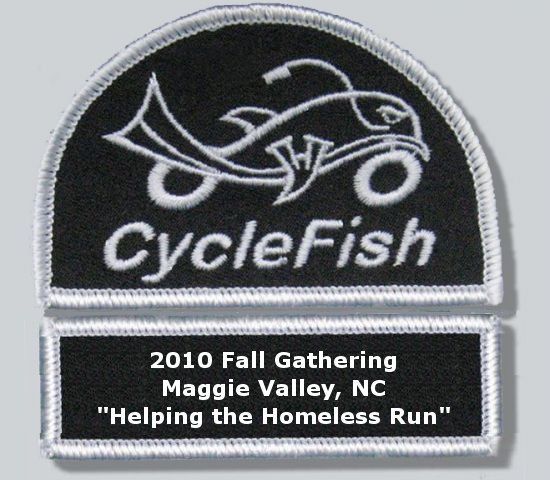 just a reminder to put this in your plans - only a few weeks to go

- it's gonna be a good chance to meet some fellow CF members and have some fun in a really pretty part of the country...ride the tail of the dragon, visit the Cherokee Indians, take a run to the ghost town or play in downtown Asheville.

- And we get to help a Homeless Shelter with your help and donations!

Hope to see you there!
Hey All! The event patches are here. To get yours contact thebulldog. They are $5 each and remember the entire $5 goes to the "Helping the Homeless!!!" You do not have to attend to get one but attending people do get first pick.

I got mine, not on the rag just yet though.