2006 H-D Road king, 95" Big Bore .585 S&S Gear Drive cams, 9.8.1 comp. Baisley Super Street heads .162, .190 Valves, Roller Rockers and Lifters, Vance and Hines Duals, Thunder headers, Race Tuner, 106hp 108tq. Speedo Tack Combo, Cruise, Chrome Lowers, Chubby 2 bars, Custom Paint and headlight, True- Track Trackula. Just Turned over 49K.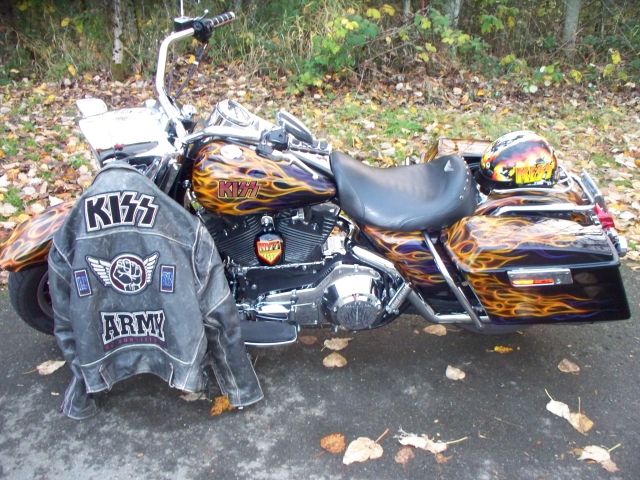 MY NAME IS JIM TWIGG OF RAVENNA, OHIO. IAM 55 AND THIS IS MY 1995 ROADKNIGHT AKA. ROADKING. 135,379 MILES ORIGINAL ON MOTOR AND TRANS(TRANSFUSIONS OF FLUIDS ARE A MUST). ITS BEEN IN TRANSFORMATION SINCE 2003. I BOUGHT IT USED STOCK WITH 40,XXX MILES. JUST A CAM AND I BLUEPRINTED STOCK C.V CARB. 68 H.P. AT REAR WHEEL, 73 FT. LBS. THIS IS A WORK IN PROGRESS THAT IAM DOING AT HOME. CURRENTLY MAKING A SET OF CUSTOM BAGS FROM SCRATCH. GOD KNOWS WHEN ILL GET THESE DONE(HOPEFULLY THIS YEAR). I BUILT THE FAIRING WITH A ZX-7 SPOILER (THAT WORKS DEFUSING THE AIR TO MY FACE), SIDE COVERS ARE CORBIN COPIES, DISCONTINUED CORBIN LOWER. HERITAGE FRONT FENDER,( MOUNTS LOWER TO LOOK SLAMED) ON EIGHTEEN INCH WHEELS. SOME OF THE PIECES WHERE PAINTED BY TOM, AT RAVENNA AUTO BODY IN RAVENNA, OHIO. I PAINTED THE FAIRING. ALL L.E.D.LIGHTS AND A DIGITAL SPEEDO AND FUEL GAUGE.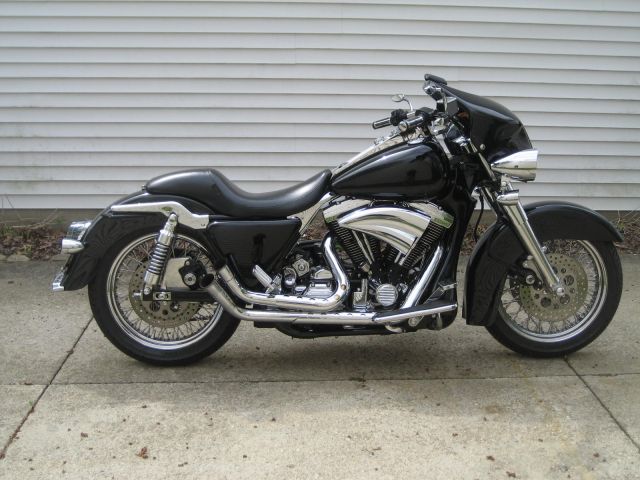 My wife's Birthday present. I am only the driver, Hee, Hee. :) A 2000 Honda Shadow Sabra 1100. I call her Studley, as she has studs from the tank bib to the tip of the seat. Heck my wife even bought a black leather jacket with studs to match the bike. We just started riding last August when I had to renew my license after a 20 year lapse. The course was a blast in Florida in August, if you know what I mean. We spend our Summers in the Blue Ridge mountains, just because we can. We entered a Best Bike Contest on a local poker run, and we won Best Bike out of a grand total of 6 Harley's and our Honda. The judges must have felt bad for us. There were at least 100 Bikes in the ride, but most did not enter the contest. Just goes to prove, you have to be in it to win it.