Hey Silversportster.......back in the 70's I lived in California, and bought a Sportster. Yea I put up with a lot of crap from all the other Harley Riders, even to the point of calling it a "Baby Harley"...Well that gave me an idea of a painting I wanted on the Baby's Tank which was not the peanut tank of the day but a (I believe a Super Glide tank which was a bit bigger....someone correct me on that if it doesn't sound right). I also got the painting idea from the Meat Loaf "Bat out of Hell" album cover.
I had a friend air brush a picture of a Baby Devil (with a diaper on) Blasting out of Hell with Hot Rocks flying all over the place, and the words "Baby Harley" written across the lower part of the tank. It was my way of kind of shooting the bird to all the other Harley Dudes. Most got a huge laugh out of it and the next thing I know everyone accepted the Scooter just like the big ones. Had a 12 over springer front end with NO front brakes, and shoe brakes on the back. Can you say Crazy. Can't believe I didn't kill myself on that "Baby Harley".......I traded it for a 64 PAN HEAD!
You go........
Night Dragon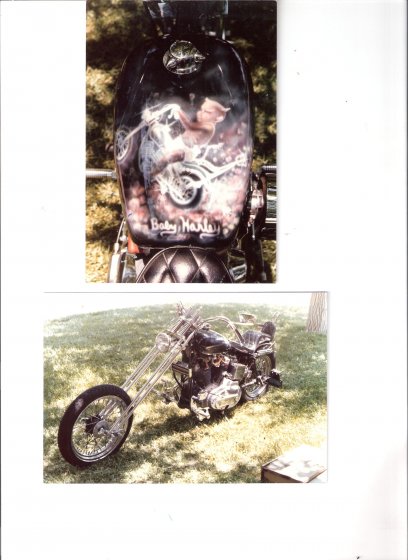 Knock it off lad - If it wasn't for the big guys willing to duff my gear I would have to lash on on the the triple-tail when we head out. - Tho I do agree that highway pegs on a Sportster are a crime against nature.
"Sports" . . . . Sportster . . . . If you ain't standing on the pegs you ain't taking it to its potential

Now to use your vocabulary Buellers are the "Real Riders", to say nothing of the Ducatti guy/gals and the Hayabusa riders they leave us all in the dust, tho I think a ton of the Triumph Tiger people - Your words, not mine
Back in the '70's I had a '69 XLCH 900cc and a '74 XLH 1000cc...now I have a '72 XLCH 1000cc and an '89 XLH 1200cc. I love my Sportsters, but facing reality, I know in the next few years (now that I'm 60) I will need the comfort of an FLH or a damn three-wheeler if I want to keep riding, but that's just the way it is.....
Call 'em what you will. I call it MY BIKE. Sportster's RULE. And I never had a problem keepin' up with the
"big boys". Blue was TWEEK'D. And I was told by more than one, I ride like a man. Whatever...
The point is, no matter what you ride, there's always gonna be someone gonna run their mouth. Right up til
you blow by em. And then they get that "look" of amazement...

I like 'em low, I like 'em lean, and I like the THROTTLE.
Just ain't the same, on any other bike. Not for me, anyways.

Give me a Sportster...any day.

Ride Free
Tweek
I couldn't agree more, Tweek! And, thank you, Fred77 & Dragon. Dolly is my first bike & although I've only been riding a little over a year, she's all the bike I need on trips & out and about around town. She's pretty peppy and can hang with the best of 'em. I think Dragon can vouch for that ;) Oh, and guys...it's the Susan G. Komen Foundation for breast cancer research...;)))
I will say for someone that has only been riding a year (DollyBaby) this is one Bad Ass Female Rider, and will put her skills up against Most Men. FYI this Harley Rider rode over 100 miles in freezing Temps.......with a Harley Battery in her Back pack on her back.
Never complains!
Dragon
When I rode a Flathead (750 cc) "they" called it a Hog.
When I rode a Knucklehead (989 cc) "they" called it a Hog.
When I rode a Sportster (1000 cc) "they" called it 1/2 a Harley.
When I road a Ultra Glide (1,449 cc) "they" called it a Garbage Barge.

To hell with "they", I ride for me not them.
Ok I am 68 and broken down.. I bought my 2011 Sportster LR1200L 2 days ago. I had a Busa 150 + all the Time, but being smarter and loving to Ride I bought the sporty to Ride until it falls in the ditch for the last time and me with a smile on my Face .. I don't Care what anyone says.. It will be my bike to love.. until the end... I am going to slow down and smell the cow patties...