Motorcycle Camping Tips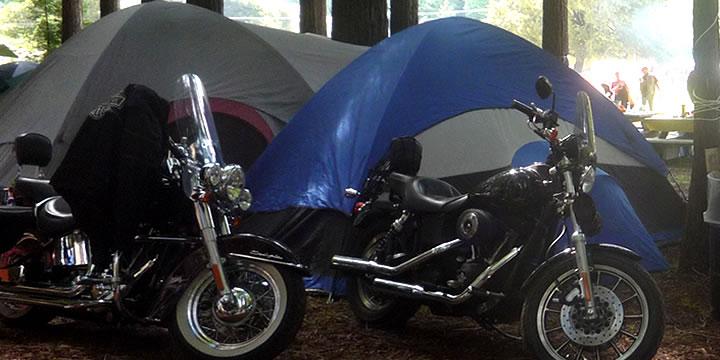 Motorcycle camping is one of the greatest ways to get out and enjoy this beautiful country of ours. Riding in the wind on the open road, cooking over an open fire and then bedding down under the stars right next to your bike. What a way to travel! But it can also quickly become a nightmare if you didn't plan properly. We've put together a few tips and resources to help you make sure your dream trip doesn't become one of those nightmares.
Planning Your Motorcycle Camping Trip
There are a couple of key things that must be taken into consideration when planning a motorcycle camping trip vs a motorcycle road trip spending your nights in hotels.
On a motorcycle camping trip we strongly recommend to plan in advance the specific campground you will be stopping at each night and whenever possible make reservations in advance. Unlike when staying in a motel where you simply head for a town and pull in to the first motel, not all campgrounds are conducive to motorcycle camping and many will not even permit motorcycle camping (especially if your bike is any louder then a soft purr).
Plan on stopping much earlier each night, preferably before dinner time. Most campgrounds start to fill up right around dinner time during camping season, and you really don't want to be trying to set-up camp after dark especially if the only light you have is your bike headlight and the smallest lantern you could find to save room. Plus when camping, you normally need to start a fire or setup your small camp stove before you can sit down to dinner. Unlike the motel where you throw your bags in the room and head to the restaurant next door.
Packing for Your Trip
Like every motorcycle road trip it is important to pack as efficiently as possible to ensure you have everything you need in as little space as possible. However there are a couple things you will want to do a little different when packing for a motorcycle camping trip...
When packing your clothes it is a good idea to pack clothes you may need upon arrival at your campsite on the top with easy access (i.e. shorts, comfortable shoes) so you can get to them before your tent is set up.
The same hold true when loading the bike. Your tent should loaded so you can get it off the bike without removing all of your gear. This way you can set up your tent and then unload the rest of your gear directly into the tent. Also remember to have handy a light and any other tools that you may need to set up your camp.
Depending on how primitive or comfortable you decide to camp will determine the camping gear you bring, however there are a few items you should always have with you on any camping trip... extra rope, duct tape, lighters, quality knife, extra light and batteries (each person should have their own light) and a first aid kit
Selecting a Campground
Of course the ideal campground is a motorcycle only campground or a campground that prides itself in being motorcycle friendly. Kind of scarce right now but as the sport of motorcycle touring becomes more and more popular, so do specialty businesses like motorcycle only campgrounds.
Some of the best deals on the road are state run campgrounds. Normally they cost around $5 to $10 per night and most of then do allow motorcycles (as long as you follow the rules). Many state parks have camping facilities, bathrooms and showers.
Commercial places like Kampgrounds of America (KOA) are okay, too. They cost a bit more than a state campground, but they offer more amenities (like laundry facilities and pools) and they're clean. You're most likely to see them advertised on billboards when traveling on interstate highways. You can also contact KOA at http://www.koa.com and, for $4.00, get a copy of their directory of KOA "Kampgrounds" across the United States, Canada, and Mexico.
Much of motorcycle camping involves prior planning, or the purposeful lack of it. If you know where you're heading and when you'll be there, you can reserve something in advance at one of the bigger state parks or a KOA. Or you can just head for a campground that you know will suit your needs. Be sure to arrive before dinnertime when most places start to fill up. The other alternative is to find a suitable site of any kind before the sun goes down.
Motorcycle Campgrounds, Resorts & Lodging
(MO = Motorcycle Only, MF = Motorcycle Friendly)
Alaska
- Thompson's Eagle Claw Motorcycle Park - (ThompsonsEaglesClaw) - (MO) Tok, AK
Arkansas
- The Hub Motorcycle Resort - (MO) Marble Falls, AR
- Kettle Campground - (MF) Eureka Springs, AR
- Riders Rest Motorcycle Only Motel - (MO) Eureka Springs, AR
- Shadow Mountain RV Park & Campground - (MF) Mena, AR
- Wolfpen ATV Campground & Cabins - (MF) Mena, AR
Florida
- Sopotnick's Cabbage Patch Campground - (MF) Samsula, FL
- Suwannee Music Park Campground - (MF) Live Oak, FL
Georgia
- Alpine Cabins - (MF) Blairsville, GA
- Copperhead Lodge - (MO) Blairsville, GA
- Jenny's Creek Campground (JennysCreekCampground) - (MF) Cleveland, GA
- Skeenah Creek Campground - (MF) Suches, GA
- Two Wheels Only Campground - (MO) Suches, GA
Louisiana
- Valhalla Motorcycle Campground - (MO) Homer, LA
Maine
- Bentley's Saloon & Campground (Gregg) - (MF) Arundel, ME
- Northern Outdoors Adventure Resort - (MO) The Forks, ME
Michigan
- Cycle-Moore Motorcycle Campground - (MO) Interlochen, MI
Minnesota
- White Oaks Acres (HondaHog) - (MF) Brook Park, MN
Missouri
- Cruise-Inn Motorcycle Motel - (MO) Kimberling, MO
North Carolina
- Blue Ridge Motorcycle Campground - (MO) Cruso, NC
- Crawford's Campground & Cabins - (MF) Murphy, NC
- Deal's Gap Resort - (MO) NC/TN border
- Golden Valley Getaways (GoldenValleyGetaways)- (MF) Golden Valley, NC
- High Country Motorycle Camp - (MO) Ferguson, NC
- Iron Horse Motorcycle Camp & Cabins - (MF) Stecoah, NC
- Kickstand Lodge Motorcycle Resort - (MF) Stecoah, NC
- Rider's Roost - (MO) Ferguson, NC
- Stations Inn Motorcycle Resort - (MO) Laurel Springs, NC
- Two Wheel Inn - (MO) Robbinsville, NC
Oklahoma
- Kickstart Motorcycle Bed & Breakfast - (MF) Stigler, OK
- Washita Hideaway (WashitaHideaway) - (MF) Davis, OK
Oregon
- Log House Campground - (MF) Enterprise, OR
- Sparkplugs Motorcycle Camp - (MO) O'Brian, OR
Pennsylvania
- Steel Steeds Biker Campground (SteelSteedsCamp) - (MF) Lewisburg, PA
- Up Creek Inn (Bikerbar) - (MF) South Sterling, PA
South Dakota
- Black Hills Motorcycle Campground - (MF) Belle Fourche, SD
- Broken Boot Campground - (MF) Spearfish, SD
- Buffalo Chip Campground - (MF) Sturgis, SD
- Bulldog Campground - (MF) Sturgis, SD
- Creekside Campground - (MF) Sturgis, SD
- Glencoe Campground - (MF) Sturgis, SD
- Hog Heaven Campground - (MF) Sturgis, SD
- Katmandu Campground - (MF) Sturgis, SD
Tennessee
- Bobarosa Saloon Campgound - (MF) Newport, TN
- Cherohala Motorcycle Resort - (MF) Tellico Plains, TN
- Hunt's Lodge (HuntsLodgeCampground) - (MF) Tellico Plains, TN
- Motorcycle Ranch (MotorcycleRanch) - (MO) Pikeville, TN
- Motorcycle Vacation Resort - (MO) Sequatchie, TN
- Punkin Center Motorcycle Resort - (MO) Maryville, TN
- Shiloh Motor Hotel & Tours - (MF) Seymour, TN
- Switch Creek Campground - (MF) Shady Valley, TN
- Witherspoons Hog Heaven Resort - (MF) Tellico Plains, TN
Texas
- Armadillo Farm Campground - (MF) Luckenbach, TX
- D'Rose Inn & Cabins (DRoseInnandCabins) - (MO) Leakey, TX
- Ultra Hog Heaven Camp - (MF) Spring Hill, TX
Virgina
- Rustling Leaves Resort - (MF) Buena Vista, VA
- Willville Motorcycle Campground - (MF) Meadows of Dan, VA
- Wolf Creek Farms Camp - (MF) Ararat, VA
Washington
- Cycle Camp - (MO) Two Locations: LaPush, WA & Clallam Bay, WA
Wisconson
- Blue Highway Motorcycle Lodge - (MO) Hilsboro, WI
- Iron Horse Hotel - (MF) Milwaukee, WI
Wyoming
- Lava Mountain Lodge (LavaMountainLodge1) - (MF) Dubois, WY
If you know of any additional resources on Motorcycle Camping that should be listed here, please leve a comment at the bottom and we will include them.
Motorcycle Camping Equipment
Typically the best equipment for motorcycle camping is the type of camping equipment used for back-packing and climbing since this is normally very lightweight and packs very small and can be found at camping and outdoor adverenture stores.