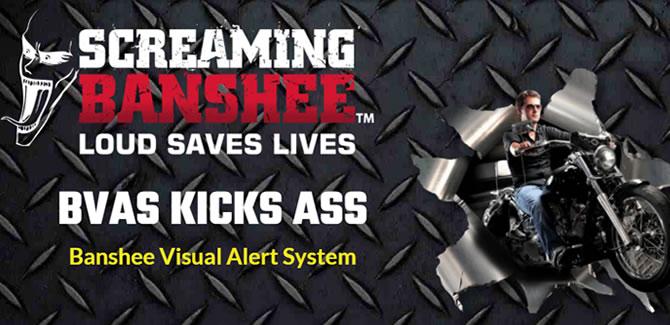 Please welcome our new advertiser... Screaming Banshee Horns
THE BEST ENGINEERED LOUD MOTORCYCLE HORNS
The Screaming Banshee is the loudest and best engineered motorcycle horn you can buy, in fact it's much more than a loud horn – it's a proven safety system that has helped thousands of motorcyclists be heard and seen when it matters most - saving lives in the process. Thousands of motorcyclists around the world rely on screaming banshee horns every day.
And with the addition of our new BVAS, drivers will HEAR you and SEE you. The Banshee Visual Alert System (BVAS) is a state of the art option for your horn. The BVAS works as a flashing highbeam light to alert distracted drivers.
If you're looking to wake the dead, the Screaming Banshee Shockwave is the loudest motorcycle horn you can buy. It does, however, have a friendly side. A tap of the horn button gives a neighborly beep much like any other horn. But if some more oomph is needed, hold the button and send a 132-decibel blast out for three city blocks while the Banshee Visual Alert System (BVAS) flashes the headlight.
Don't be fooled by the Mini Banshee's diminutive size; it packs a surprising 126-decibel punch that will turn heads in every direction. The low tone cuts through the road noise to let everyone know you're there, and the compact size allows it a universal fit on almost any bike.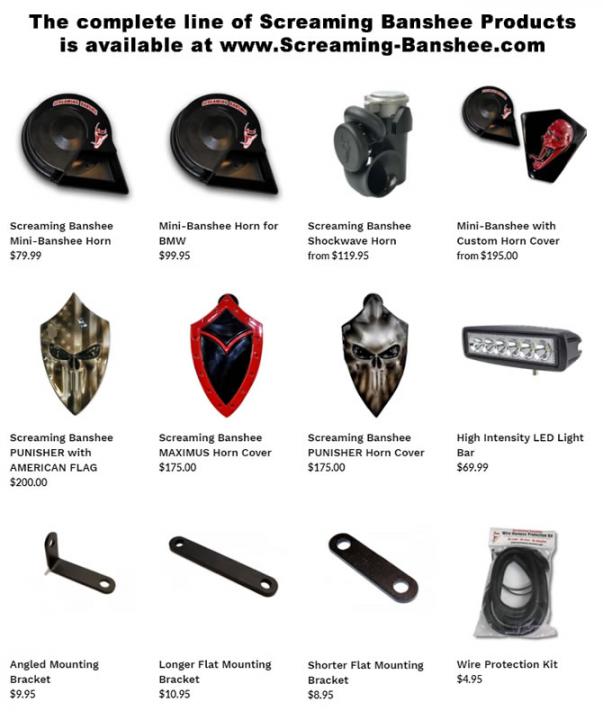 Screamin-Banshee.com is loaded with more information, pictures, installation guides, and testimonials
"Love the sound and look on my Harley"
-Hector, Los Angeles, California
"I couldn't believe how loud it is! Fits easy on my Kawasaki"
-Jimmi B., North Carolina
Every day, the Screaming Banshee family shouts "Be Loud, Be Cool, Be Banshee