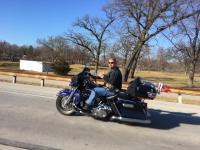 Member Info
Member Type: Personal Users
Profile Views: 190 views
Friends: 0 friends
Last Update:
Joined:
Bigfish17

Gonna start weather watching here soon.  Depending on weather I might have a couple of guys depart Tuesday the 4th, from the Kankakee area.  If weather does not cooperate we may trailer down and leave later Wednesday night.  Get in Thursday.  If you would... more
Bigfish17 → The Wall That Heals - Escort Ride - Oak Forest, IL: The Wall That Heals  exhibition features a replica of the Vietnam Veterans Memorial in Washington, D.C. 
The Wall That Heal s is
erected in a chevron-shape.  The replica is constructed of
powder-coated aluminum, supported by an aluminum frame, and is... more

Bigfish17 created a new event:

Bigfish17 → 2D LAV, LAI, LAR Bn. Ride to Remember: Reminder, If base access is needed for this event, we will need the following to pass on to the base Provost and seek passes from each driver or rider.  This information must be received by 1600 Hrs. Tuesday March 21. 

Base Guest operating a motor vehi... more

Bigfish17 has added a new profile photo.

Bigfish17 That was the idea, to have groups come in from all over and meet up and attend the memorial service.  Then it just sorta grew post haste. 
 

Bigfish17 created a new event:

Bigfish17 has just signed up. Say hello!