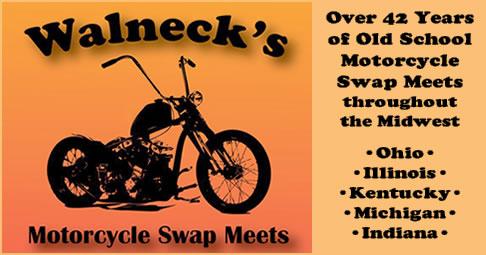 Walneck's 2023 Motorcycle Swap Meets Schedule
Buzz & Pixie Walneck have put on over 400 Motorcycle Swap Meets throughout the Midwest over the past 42+ years. Their love of motorcycles, new and old, have kept them going for all these years and as you can see by the 2023 show list below, they have no plans of slowing down. The Walneck Motorcycle Swap Meets have become a standard for the place to find anything and everything motorcycle and motorcycle enthusiasts travel from near and far to find things they are looking for or didn't even know you needed until they got there and saw it.
Even as Buzz turns 80 years old this year, he and his wife Pixie still travel to all the swap meets to oversee each and everyone of them in person... and they are still riding their motorcycle when not working the events!!!
Here is the Walneck Motorcycle Swap Meet Schedule for 2023...
(click event for details)
Apr 23 – Woodstock, IL - THE BIG ONE - Cars & Bikes
June 25 – Woodstock , IL- Cars & Bikes
Aug 20 – Woodstock, IL - Cars & Bikes
Oct 15 – Woodstock, IL - Cars & Bikes
Nov 5 – Shepherdsville, KY
Nov 12 – Princeton, IL
Nov 26 – Springfield, OH
For more information on ANY and ALL Motorcycle Events across the U.S., be sure to visit the world famous CycleFish Motorcycle Event Calendar...