Route 66 Biker Rallies dates for all of their 2023 Motorcycle Rallies and Biker Parties.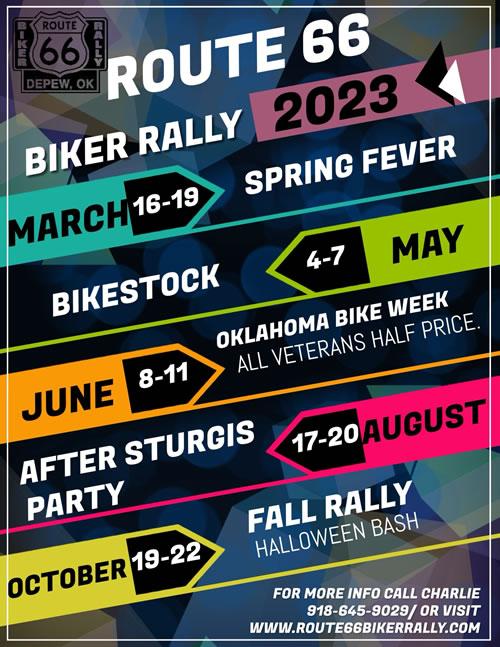 Happening for over 12 years, the Route 66 Motorcycle Rallies are the Wildest Old School Adult Only Biker Parties in Oklahoma. You can always look forward to Great Bands and Entertainment, Bike Games, People Games, Wild Contests, Vendors, Food and More.
Plus, the rally grounds are fantastic and just keep getting better. There is a swimming lake with a water slide, on-site giant bar with cat walk and stripper pole, a great outdoor stage and tons of improved RV & Tent camping with REAL bathrooms and showers.
For more information on any of the Route 66 Motorcycle Rallies, click the links below...
Route 66 BikeStock Oklahoma Biker Rally
Route 66 Biker Rally - After Sturgis Party
For more information on ANY and ALL Motorcycle Events across the U.S., be sure to visit the world famous CycleFish Motorcycle Event Calendar...