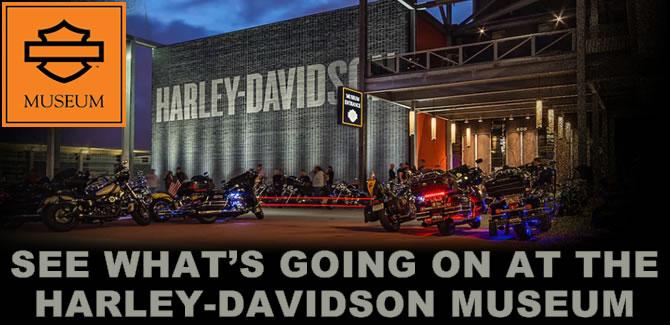 Check out the treats found at the Harley-Davidson Museum this October
Skulloween Bike Night returns and a first-ever outdoor Movie Night premieres.

MILWAUKEE, USA (Sept. 30, 2021) – The Harley-Davidson Museum has been an anchor of the Menomonee Valley neighborhood since opening back in 2008. The H-D Museum is also a proud sponsor of Valley Week, which aims to showcase some of the fantastic ways to experience the nature, destinations and the Menomonee River Valley's fascinating history in the heart of Milwaukee. As a part of the festivities, the Harley-Davidson Museum is thrilled to present an outdoor movie night on Friday, Oct. 1.
Bring the whole family down to the H-D Museum for a screening of Trolls World Tour for the Valley Week finale. Pack a blanket or chairs to get cozy under the night sky. Come early to have the kids take a spin on an H-D® IRONe™ electric balance bike, nab a (temporary) tattoo or grab a bite from MOTOR® Bar & Restaurant.
But the family-friendly fun doesn't stop there. Beginning Saturday, Oct. 16, the ever-popular engineering merit badge program returns for in-person, hands-on experiences. And don't fret, the virtual program remains a popular option for scouts from around the country on Saturday mornings and Tuesday evenings.
And just in time for Halloween, Milwaukee's favorite haunt, MOTOR, brings back Skulloween on Oct. 28. The night will feature live music, raffles for Harley-Davidson® gear and more shenanigans for ghouls who just want to have fun! Dress up to win the costume contest and go home with a $250 Harley-Davidson Museum Campus gift card! Don't miss out!
PROGRAMMING / EVENTS
Valley Week Outdoor Movie Night
Friday, Oct. 1, 6 – 8:30 p.m.
Bring the whole family down to the Harley-Davidson Museum in the Valley for an outdoor screening of Trolls World Tour and more fun activities as we celebrate another successful Valley Week!
Grab some dinner, drinks, or snacks from MOTOR® Bar & Restaurant for dine-in or carry-out to pair with the movie or check out the refreshments available outside. Enjoy kids activities prior to the film, including H-D® IRONe™ ebike demos and airbrush tattoos.
Skulloween
Thursday, Oct. 28, 5 – 9 p.m.
Head to one of Milwaukee's most popular haunts, MOTOR® Bar & Restaurant, for a celebration of all things black and orange! In addition to food and drink specials from MOTOR, Skulloween Bike Night will feature live music and raffles for Harley-Davidson® gear. Those who dress to impress will have a chance to win bragging rights in our costume contest. The costume with the most votes at the end of the night will win a $250 Harley-Davidson Museum Campus gift card!
Annual Pass
Looking for interesting things to do and ways to fully enjoy our programs and exhibits? The Harley-Davidson Museum's new Annual Pass offers individual, family and VIP levels to fit your lifestyle. Just some of the perks of the new Annual Pass include: admission discounts, free admission for children under age 18, merchandise discounts at The Shop, dining discounts at MOTOR® Bar & Restaurant and more.
Plus, if you purchase an Annual Pass in 2021, those passholder perks can be enjoyed all of 2021 and 2022. Visit H-D Museum.com to see complete ticket details for exclusions and other terms and conditions.
Engineering Merit Badge (Saturdays at 11 a.m. and 1:30 p.m.)
All scouts are welcome to come earn their Engineering Merit Badge at the Harley-Davidson Museum! This experience will be partially facilitated as scouts explore the history of Harley-Davidson as well as the engineering of motorcycles as they complete the nine merit badge requirements. Advance registration is required. Program registration closes one week prior to the scheduled program date. Ticket includes: Downloadable activity booklet used for the program, partially facilitated program, blue card signed by the facilitator (one blue card per scout registration) and an exclusive H-D Museum® patch.
Scout Virtual Engineering Merit Badge (Saturdays at 8:30 a.m. and Tuesdays at 6:30 p.m.)
This new 90-minute online program is open to scouts from all over the country. Our program facilitator will guide the troops and explore the role an engineer plays while creating a Harley-Davidson® Motorcycle. Nine requirements for the Engineering Merit Badge will be discussed during this virtual, interactive program. Advance registration is required. Program Fee: $20 per Scout, which includes an activity booklet used during the program and a special H-D® patch upon completion of the program.
MUST-SEE EXHIBITS AND INSTALLATIONS
Revolution Max Engine (on display now)
The brand-new Revolution® Max 1250cc engine powers a new generation of Harley-Davidson motorcycles. See the liquid-cooled, 60-degree V-Twin that delivers for the Pan America™ adventure touring model and the performance cruiser Sportster® S motorcycle. On view in the Museum lobby.
Clubs & Competition (on display now)
In the early part of the 20th century, motorcycle culture was a homegrown phenomenon. It grew out of the passion of riders for their evolving sport. The camaraderie that developed around riding and attending competitive events led to the formation of motorcycle clubs that hosted destination rides, family picnics with motorcycle games and other riding competitions.
The newly reinstalled display case in the Clubs & Competition gallery highlights clothing from club members from primarily the 1930s and 1940s. The clothing selections on view include full dress uniforms, shirts, sweaters, jackets and caps, customized by the owners with their club name and logo, and pins or patches indicating membership in the American Motorcyclist Association. The H-D Archives™ collection includes Motorclothes® apparel sold in H-D® product catalogs but also non-H-D produced clothing items that have been proudly customized by riders.
Experience Gallery: Model Year 2021 Harley-Davidson motorcycles (on display now)
Always a favorite photo opportunity for riders and non-riders alike, the H-D Museum's Experience Gallery has been refreshed with five 2021 Harley-Davidson motorcycles –including the all-new Pan America™ and the Sportster S!
Harley Fox (on display now)
Gail Anderson's 1986 Softail® Custom motorcycle, "Harley Fox," built by her partner Bob Burrows, took top prize at the first Ladies of Harley® (LOH) ride-in show during Daytona Beach Bike Week in 1987. With her custom bike and themed riding gear, Anderson presented a striking image that fit the growing visibility and exciting new options for women riders in the 1980s.
Alfonso Sotomayor's 1957 Model FL (on display now)
The Harley-Davidson Museum is proud to announce its collection has recently grown with the addition of a 1957 Model FL that was ridden by famed Mexican stunt rider and racer Alfonso Sotomayor Canales.
Harley-Davidson's history in Mexico dates back to at least 1913. In the 1920s, the brand was more frequently spotted throughout Mexico City as the motorcycles proved popular with the local traffic police who would also perform stunts with their Harley-Davidson® bikes. After racing from the 1930s into the 1960s, Sotomayor launched his own stunt riding career by performing the famed "Salto de la Muerte" or Jump of Death. Learn more about Sotomayor's feats of derring-do and Harley-Davidson's early entry into Mexico with this new display located in the Custom Culture area.
"Off-Road Harley-Davidson" (on display now)
In the decades before America paved its highways, early riders had to be prepared for all sorts of terrain: sand, clay or dirt – and wandering those makeshift byways were Harley-Davidson® motorcycles. Today, it's called off-road or adventure touring; back then it was just called riding. Since 1903, Harley-Davidson motorcycles proved their toughness by riding over wooded hills, through stone-choked creek beds and up mountain sides. "Off-Road Harley-Davidson" tells the history of motorcycles designed for rough roads, the people who rode them and the adventures they shared.
"Building a Milwaukee Icon: Harley-Davidson's Juneau Avenue Factory" (on display now)
A recently recovered cache of architectural drawings includes plans for the original Juneau Avenue facility. The pencil drawings, along with archival photographs, demonstrate the whirlwind pace of the company's early growth. While building an international business—going from producing just over 1,000 motorcycles in 1909 to manufacturing 27,000 motorcycles in 1920—the company's Milwaukee factory experienced near-constant expansion. Construction through this relatively brief period created the buildings that today, a century later, are still the proud home of Harley-Davidson.
"Building a Milwaukee Icon" provides a snapshot of Harley-Davidson's formative years and illustrates a chapter of Milwaukee history when the city was known as the "Machine Shop to the World."
Google Arts & Culture, "An Amphibious Sidecar Tour of the Salton Sea" (on display now)
100 years ago, John Edwin Hogg and Phillip Johnston visited the Salton Sea. Their exploits earned detailed coverage in the September 1921 issue of "The Harley-Davidson Enthusiast™" magazine due to the unexpected role their Harley-Davidson® motorcycles played in the adventure.
MOTOR® BAR & RESTAURANT
MOTOR® Bar and Restaurant is now open seven days a week – including dinner service on Thursdays, Fridays and Saturdays! Whether you're hankering for an authentic all-you-can-eat Wisconsin Friday fish fry or just want to reconnect with your "virtual" colleagues, MOTOR provides the perfect backdrop to toast great food and good times. Plus, October's bands for Saturday's BBQ & Blues are scorchers.
10/2/2021 No BBQ & Blues (private event)
10/9/2021 Steve Cohen
10/16/2021 Craig Baumann
10/23/2021 Robert Allen Jr. Band
10/30/2021 Blue Highway Duo
1903 EVENTS Book your holiday party now! After months of missing out on events and gatherings, it's time to reconnect with friends, family and colleagues. Intimate or grand, the team at MOTOR Bar & Restaurant and 1903 Events are ready to take care of all the details so all you have to worry about is where you left your dancing shoes.
About the Harley-Davidson Museum
Discover culture and history through stories and interactive exhibits that celebrate expression, camaraderie, and love for the sport at the Harley-Davidson Museum. A visit to the H-D Museum is an experience that will stay with you for a lifetime. With an unrivaled collection of Harley-Davidson® motorcycles and memorabilia, a 20-acre, park-like campus, and a calendar full of activities, the H-D Museum is one of Milwaukee's top tourist destinations for visitors from around the globe. Make your plans to visit the Harley-Davidson Museum at H-DMuseum.com.
###
Contact:
Tim McCormick
Tim.McCormick@Harley-Davidson.com
414-534-6180