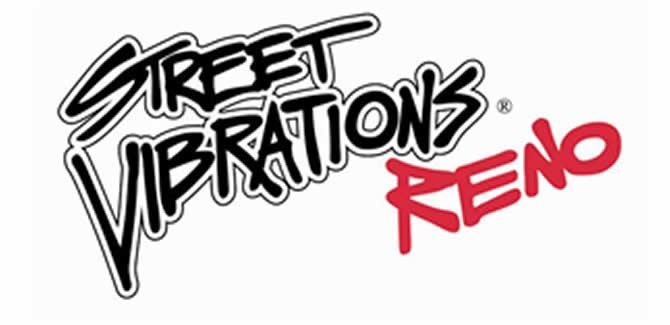 Northern Nevada Welcomes Riders for Reno's Street Vibrations® Fall Rally
PRESS RELEASE for immediate release
Street Vibrations® Fall Rally, the official end to the riding season, will roar into downtown Reno, NV September 23 - 26, 2021 for a week-end of live music on 2 stages, slow bike races, burning ninja show, vendor village, poker run, Patriot cruise honoring all Veterans, flag raising ceremonies, more than 100 vendors selling all things motorcycle and non-stop FREE entertainment for the whole family.
Fun for Everyone
Street Vibrations® Fall Rally is a four day party that is free to the public and open to all motorcycles makes and models including plenty of free parking surrounding the venue next to the Sands Regency.
Live Entertainment
"We'll have 15 acts performing a wide spectrum of music on outdoor stages in Reno's newest special event venue, Reno's Neon Line District, next to the Sands Regency at the corner of Ralston Street and 4th Street. We'll also have activities at Battle Born Harley-Davidson in Carson City and Carson City Motorsports. "During the three day event you'll find everything from contemporary rock to blues and southern rock," said Randy Burke, president of Roadshows, Inc. event producer.
Friday and Saturday Headliner Entertainment
Beer Drinkers and Hell Raisers are the Bay Area's own, Ultimate ZZ Top tribute will perform at 5:30 to 9:30 p.m. on Thursday and from 3:00 to 7:00p on Friday and Saturday on the Headliner Main Stage, surrounded by plenty of seating and shade.
Skynnyn Lynnyrd, a salute to Lynyrd Skynyrd the legendary sound of the South, will perform from 8:00 to 9:30 pm Friday and from 3:00 to 4:30 on Sunday on the Headliner Main Stage with plenty of seating. Enthusiasts are encouraged to arrive early since their shows end up as a standing room only dance party.
Ceremonial Flag Raising
"We're having our traditional ceremonial flag raising performed by the Spanish Springs High School Junior ROTC on the Headliner main stage at 6:15 p.m. on Thursday and at 6:45 on Friday and Saturday", Burke said.
"Nevada local favorite, Danielle McNulty will perform at 6:15 pm on Thursday and Nevada showroom star, Ms. Tamara Evans will sing the National Anthem as part of the ceremonial event on Friday and Saturday at 6:45pm. Street Vibrations® pays tribute to the men and women in blue who keep our community safe and sound and our armed services members and veterans who protect our nation and thank them for their service to our country," Burke added.
Special Event Venues
Most Street Vibrations® Fall Rally event activity will start, end or take place entirely in Neon Line District Venue next to the Sands Regency, but the rally has expanded to include several other additional official locations.
Those venues are: Carson City Motorsports, Virginia City and Battle Born Harley-Davidson in Carson City. All will be rocking throughout the weekend with entertainment and great deals.
Virginia City will also welcome riders participating in a Friday poker run, Saturday Patriot Cruise and entertainment and vendors at both the Delta and Bucket of Blood venues.
Must See
Exciting family enjoyment : Burning Ninja fire show on Friday and Saturday nights next to the Main Stage at 7:30. If you have seen a fire performance before, you have never seen one like this. The Sands Regency presents American Heat® Custom Bike Show in the big top tent on Friday and Saturday, 10am to 10pm
Sponsors
Sponsors for Street Vibrations® Fall Rally are Biker Clothing Apparel Company, VisitRenoTahoe.com, Coors Light, Bonanza Saloon & Café, Delta Saloon and Bucket of Blood Saloon in Virginia City, Sands Regency, Reno Harley-Davidson, Battle Born Harley-Davidson and Carson City Motorsports, both in Carson City, Coca-Cola, Port of Subs, Roadshows, Inc®, Peppermill Resort Spa Casino and the Virginia City Tourism.
Contact Information
To see a complete Street Vibrations® Fall Rally schedule, a detailed program and a live action pocket program, visit https://online.fliphtml5.com/xkxmy/fhmn/#p=1. For more event information call 775-690-2035.
Media Contact: admin@roadshowsreno.com Roadshows 775-690-2035
Public Contact: www.roadshowsreno.com 775-329-7469.