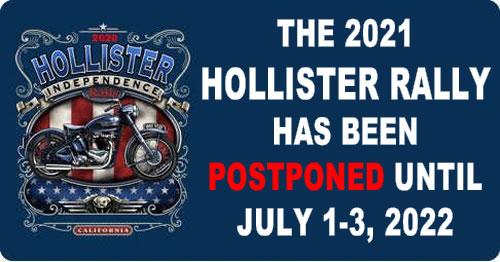 Hollister Independence Rally 2021 Postponed
We believe the health and safety of our Hollister residents, rally participants, vendors, sponsors, event staff and especially front line responders including Hollister police, fire and city workers is of the utmost importance.
In response to this, the 2021 Hollister Independence Rally will be postponed due to the worldwide spread of Covid-19. The return of the Hollister Independence Rally is currently scheduled for July 1, 2, 3, 2022.
We are stronger as a community than as individuals. We will rally again soon and celebrate our freedom to ride. Please enjoy your 2021 Independence Day weekend. Stay healthy and safe and we look forward to all of our participation in our 2022 event. Again, mark your calendar for July 1, 2, 3, 2022.
For 2022 sponsorship, VIP participant and vendor information, please contact Roadshows®, Inc. at 775-690-2035, Email: admin@roadshowsreno.com , visit http://hollisterindependencerally.com/ or www.roadshowsreno.com.

For additional information and updates, visit Roadshows Hollister Facebook page at https://www.facebook.com/HollisterindependenceRally.
Media Contact Only: Randy Burke, admin@roadshowsreno.com
Public Contact: Roadshows 775-329-7469 www.roadshowsreno.com
For the most up to date information on all Motorcycle Events be sure to visit the CycleFish Motorcycle Event Calendar