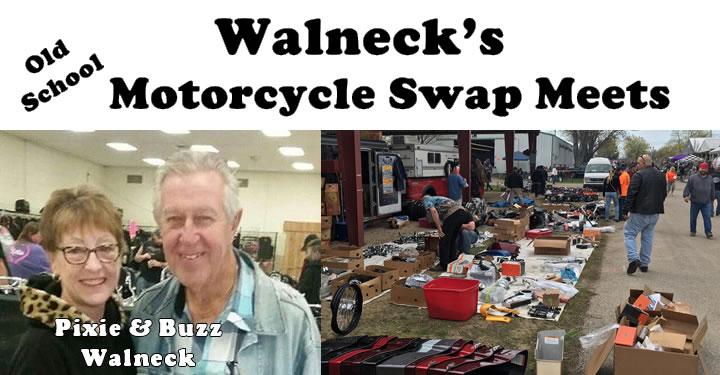 Do you enjoy the true Old School style Motorcycle Swap Meets? The ones where a bunch of bikers & garage mechanics bring out boxes upon boxes of assorted motorcycle parts. You know the place you go needing absolutely nothing but by the time you leave you now have boxes of stuff you didn't even know you needed. Well then Walneck's Motorcycle Swap Meets are for you! Buzz Walneck hosts over 20 Old School Motorcycle Swap Meets a year in Illinois, Indiana, Ohio, Michigan and Kentucky. Buzz held his first Motorcycle Swap Meet in Woodstock, Illinois over 45 years ago where between 15 and 20 people showed up. He considered that such a success (not to mention fun) he decided to expand with more swap meets each year in Woodstock and eventually expanding to the surrounding areas. Now days Walneck Motorcycle Swap Meets can draw upwards of 5,000 shoppers and hundreds of sellers, and Buzz is still there making sure everything goes as it should.
Walneck's 2022 Motorcycle Swap Meet Schedule...
(click the event for details)
September 18 - Martinsville, IN
November 6 - Shepherdsville, KY
A Few Photos from Past Walneck Motorcycle Swap Meets...