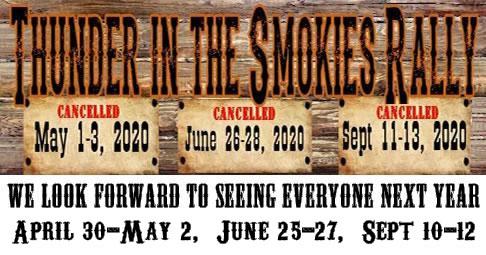 Hello everyone,
We hope to find you all doing well. The 2020 event season has been troubling times for all events and mass gatherings. We regretfully announce that all of our 2020 Thunder in the Smokies Rallies in Maggie Valley, NC are canceled due to COVID-19. Current State Guidelines are preventing us from holding all 2020 events. We sincerely thank you for all your support over the years. We look forward to seeing you in 2021 because we will be back bigger than ever! Those dates are April 30-May 2, June 25-27, and Sept. 10-12, 2021.
Until then ride free and safe.
-Chris and Lori
Thunder in the Smokies
About Thunder in the Smokies...
Top-notch performers, tasty treats and an enthusiastic crowd, it's sure to be a good time.
Bike Games $1,000 Cash Prize
35+ Vendors
Concerts Friday and Saturday
Tour Ride Blue Ridge Parkway
Sunday Morning FREE Pancakes
Bike Show $1,000 Cash Prize
Area Attractions include Tail of the Dragon, Wheels Through Time Museum and many more!
We are THE LARGEST RALLY IN MAGGIE VALLEY AND THE GREAT SMOKY MOUNTAINS OF NC. All bikes and ages welcomed. Join us at the Handlebar Corral for a rumbling weekend where thousands of bikers roll into town for the busiest motorcycle weekend in town
--------------------------------------------------------------------
NOTE ABOUT MOTORCYCLE EVENT CANCELLATIONS
Many motorcycle events have been canceled across the U.S. We are working hard to ensure events listed in the CycleFish Motorcycle Event Calendar are updated with the most accurate & current information available.
Please be sure to confirm the status of any & all events before making plans to attend.
If you have an event listed in the CycleFish calendar (or know of an event) and the event status has changed, please let us know ASAP so we can update the listing with the most current information.