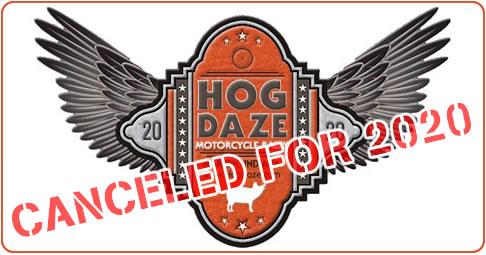 Indiana Motorcycle Preservation Society Announces Cancellation of Annual Event, Hog Daze, Due to Coronavirus (COVID-19)
Marion, IN - Due to the ongoing developments resulting from the corona virus, the Indiana Motorcycle Preservation Society (IMPS) announced the difficult decision today that the 2020 Hog Daze event is cancelled.
"The IMPS board of directors did not make the decision to cancel lightly. We are excited to unveil the fruits of our labor over the last year. We crafted an event that will celebrate Marion's motorcycle heritage unlike any Hog Daze event before. Unfortunately, now is not the time for the big reveal," said Loretta Tappan, President of the IMPS Board of Directors.
The organization is not able to adhere to this year's strict guidelines as an event host with limited resources. Hog Daze 2020 presented by IMPS was scheduled for Friday, August 7 through Sunday, August 9.
"It is heartbreaking to have to make this announcement. We extend our sincere appreciation to the vendors, volunteers and performers as they prepared for the event over the past year as well as our event participants, venue and sponsors who were primed to celebrate with us," said Tappan.
Ticket holders, vendors, and sponsors will be contacted with options including contributing the value of their tickets or fees as a tax-deductible donation, receiving a reservation for next year's event, or obtaining a full refund. As a tax-deductible charity, IMPS is particularly grateful for donations during this challenging time.
Tappan stated, "Ultimately, the organization is committed to continuing to promote Indiana's rich motorcycle history, specifically Marion's unique claim to fame as the 'Home of the Hog', and we are
looking at ways we can do that throughout the year."
IMPS thanks patrons for their patience and apologizes for any inconvenience this may cause.
For additional information, please email media@hogdaze.com. Look forward to seeing you at Hog Daze 2021.
• • • • • • • • • • • • • • • • • • • • • • • • • • • • • • • • • • • • • • • • • • • • • • • • • • • • • • • •
About the Indiana Motorcycle Preservation Society
The Indiana Motorcycle Preservation Society is a 501C3 nonprofit created with the purpose of promotingand celebrating motorcycle history in the state of Indiana. The impetus behind creating Hog Daze is Marion's 1919 & 1920 International Championship Motorcycle Races. Many motorcycle racing greats competed in these races and history was made each year. Visit IndianaMPS.org for more information, or check out Facebook (HomeOfTheHog), Twitter (@MarionHogDaze), and Instagram (@HogDaze).

505 W 3RD STREET, MARION, IN 46952 // 765-231-6989 // INDIANAMPS.ORG // INFO@HOGDAZE.COM
--------------------------------------------------------------------
NOTE ABOUT MOTORCYCLE EVENT CANCELLATIONS
Many motorcycle events have been canceled across the U.S. We are working hard to ensure events listed in the CycleFish Motorcycle Event Calendar are updated with the most accurate & current information available.
Please be sure to confirm the status of any & all events before making plans to attend.
If you have an event listed in the CycleFish calendar (or know of an event) and the event status has changed, please let us know ASAP so we can update the listing with the most current information.