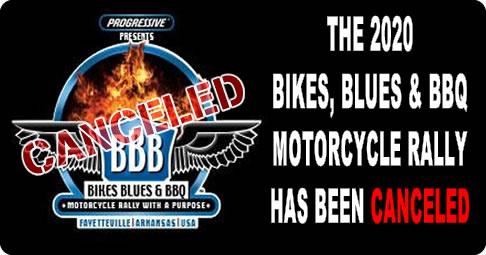 The annual Bikes, Blues & BBQ rally will not happen in 2020.
Officials said the event, which was scheduled for Sept. 23-26, was canceled because of the COVID-19 pandemic.
The Bikes, Blues & BBQ board said the decision was made "out of an abundance of caution and concern for the safety and well being for our NWA community, the non-profits that we support, attendees, vendors, staff and our tireless volunteers."
The event joins several other motorcycle rallies that have been canceled this year, including Daytona Bike Week, the Hollister Independence Rally, Red River Memorial Rally, the Republic of Texas Rally, and Hells Canyon.
The Sturgis City Council is set to decide today (June 15) whether the 80th anniversary edition of the Sturgis rally in South Dakota will be canceled or postponed.
Next year's Bikes, Blues & BBQ will continue as planned beginning Sept. 22, 2021.
Source: Fayetteville Flyer
--------------------------------------------------------------------
NOTE ABOUT MOTORCYCLE EVENT CANCELLATIONS
In abiding with the Center for Disease Control and Prevention's call for no public gatherings, many upcoming motorcycle events are being canceled across the U.S. We are working hard to ensure events listed in the CycleFish Motorcycle Event Calendar are updated with the most accurate & current information available.
Please be sure to confirm the status of any & all events before making plans to attend.
If you have an event listed in the CycleFish calendar (or know of an event) and the event status has changed, please let us know ASAP so we can update the listing with the most current information.