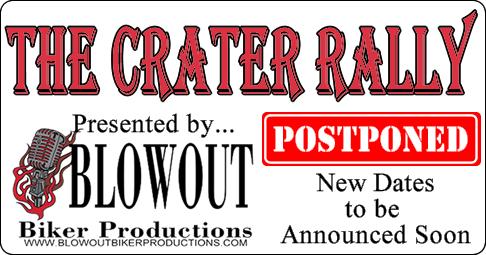 UPDATE: The Spring Crater Rally is now the Summer Crater Rally with new dates of August 27-30
Blowout Biker Productions is regrettably announcing that we must reschedule the Crater Rally. We spoke to Rusk County after their conference call with Governor Greg Abbott today and we are unable to move forward with our May 14 – 17, 2020 date. This is not what we wanted to happen, but we must follow the governor's instructions and we will reschedule for a later date!
We know that many of you were looking forward to attending and have preregistered for the rally or purchased vendor spots. Our website states that there are no refunds so all preregistration passes, sites, and vendor spots will be automatically transferred to the new 2020 Crater Rally date, which will be announced as soon as we are able to schedule it. In the event that you are unable to attend the new 2020 Crater Rally, we will gladly transfer your preregistration to the 2021 May Crater Rally.
Please feel free to contact us at Blowout@blowoutbikerproductions.com with any issues or comments.
Thank you for your understanding in this matter. We cannot wait to get out and party with y'all!
Sincerely,
Blowout & Barbara
We will update the Crater Rally Listing with the new dates as soon as they are announced.
--------------------------------------------------------------------------
NOTE ABOUT MOTORCYCLE EVENT CANCELLATIONS
Many upcoming motorcycle events are being canceled across the U.S. We are working hard to ensure events listed in the CycleFish Motorcycle Event Calendar are updated with the most accurate & current information available.
Please be sure to confirm the status of any & all events before making plans to attend.
If you have an event listed in the CycleFish calendar (or know of an event) and the event status has changed, please let us know ASAP so we can update the listing with the most current information.