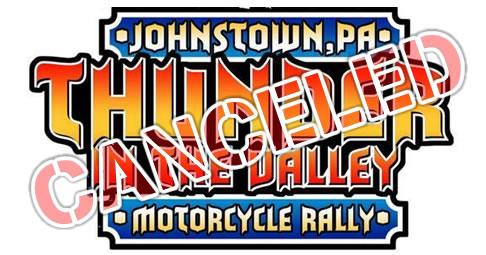 Johnstown Thunder in the Valley Motorcycle Rally has been canceled for 2020 due to the coronavirus.
Thunder in the Valley was scheduled for June 25 through 28.
The event will return June 4-6, 2021
Johnstown Thunder in the Valley Motorcycle Rally 2021
A statement from the promoters at Visit Johnstown
"The COVID-19 pandemic has severely impacted our local tourism industry and our organization's revenue streams, making it impossible for us to proceed with our events this year," Visit Johnstown's executive director, Lisa Rager, said. The organization is largely funded through Cambria County's 5% lodging tax, while the events are funded through sponsorships, vendor fees, beer and liquor sales, and official merchandise sales.
"We know how much our events contribute to the economy of the City of Johnstown and the surrounding area, and my team and I are beyond disappointed that we are not in a position to deliver that benefit this year, especially when our community will need it the most," Rager said, adding, "We look forward to bringing our team back when we're able, and resuming the work of promoting Johnstown and Cambria County as a destination for visitors, as well as planning for PolkaFest and Thunder for next year.
Rally goers who purchased passes for the premium viewing area for the Colt Ford and Hairball performances will be fully refunded through Eventbrite. Rager said her team is working to reschedule the feature acts for next year.
"I'd like to thank my team at Visit Johnstown who works so hard to promote our area and coordinate our events. We're also appreciative of our many partners who work alongside us, and who have supported us for all of these years," Rager said. "We look forward to seeing everyone again in 2021."
This year would have marked the 23rd year for both PolkaFest and Thunder in the Valley. 2021 event dates are June 4-6 for PolkaFest, and June 24-27 for Thunder in the Valley. We hope to see you then!!
--------------------------------------------------------------------------
NOTE ABOUT MOTORCYCLE EVENT CANCELLATIONS
In abiding with the Center for Disease Control and Prevention's call for no public gatherings, many upcoming motorcycle events are being canceled across the U.S. We are working hard to ensure events listed in the CycleFish Motorcycle Event Calendar are updated with the most accurate & current information available.
Please be sure to confirm the status of any & all events before making plans to attend.
If you have an event listed in the CycleFish calendar (or know of an event) and the event status has changed, please let us know ASAP so we can update the listing with the most current information.