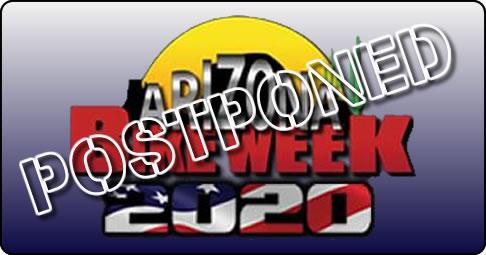 2020 Arizona Bike Week has been Postponed!
Updated 3/17/2020 6:30 PM
A message from the AZBW Promoters...
Arizona Bike Week has just received notification from City of Scottsdale officials that we need to reschedule Arizona Bike Week from the first week of April. Having made every effort to move forward with our event as scheduled, we are now looking into postponing to a later date. To say this has been a very fluid and rapidly changing situation would be a drastic understatement. We ask for your patience while we address the MANY factors of rescheduling. Tickets and campsites will remain valid for new dates. We will keep you posted on developments as soon as we can. In the meantime we wish you good health and safe riding.
UPDATE: NEW DATES ARE Oct 7-11, 2020
More info on 2020 Arizona Bike Week
Official Statement from the City of Scottsdale;
With the March 16 guidance from federal, state and county public health departments restricting events or social gatherings larger than 10 people, the City of Scottsdale is cancelling all special events being held by the city or at a city facility for the next eight weeks.
This includes AZ Bike Week and other events at WestWorld. More specific communication regarding your particular event will be forthcoming.
We appreciate event producers and the public who understand that difficult steps are necessary in the ongoing effort to limit the spread of coronavirus in our communities.
* * * * * * * * * * * * * * * * * * * * * *
ABOUT MOTORCYCLE EVENT CANCELLATIONS
In abiding with the Center for Disease Control and Prevention's call that all events of 50 or more be cancelled, many upcoming motorcycle events are being canceled across the U.S. We are working hard here at CycleFish.com to ensure events listed in our calendar are updated with the most accurate & current information available. Check our Motorcycle Event Calendar here for the latest event listings and updates.
We are in contact with event promoters to verify the status of their events. Please be sure to confirm the status of any & all events before making plans to attend.
If you have an event listed in the CycleFish calendar (or know of an event) and the event status has changed, please let us know ASAP so we can update the listing with the most current information.