Product: Pull Behind Motorcycle Trailer
Manfacturer: Mini Trailer USA

Model Tested: Shadow

Cost (MSRP): $1,395

Reviewed By: Lucky

Overall Rating: Excellent

Where to Buy: Mini Trailer USA Website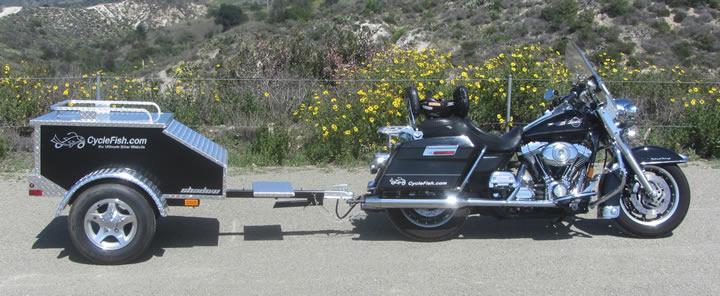 Review:

First things first, getting your trailer. If you are in or around northeast Oklahoma you can pick up your fully assembled trailer at the Mini Trailer USA facility in Vinita, OK. However if you are not in the area (like myself) you can have your trailer shipped to you via ground freight. You pay only the freight charge with no markup – contact Mini Trailer USA for the exact shipping cost to your location.

My trailer arrived securely packed and in excellent condition. As stated on the Mini Trailer USA website, total assembly time took just under an hour. All you need to do is bolt on the torsion suspension/axles, wheels, fenders, tongue and top luggage rack – a total of 21 bolts and 10 wheel lugs. The only tools required for assembly are a 1/2" and 9/16" wrench or socket, and a 3/4" lug wrench or socket for the wheels.

Once my trailer was assembled and on its wheels it was time to look it over. From my first look at the trailer I could tell this was one WELL MADE TRAILER with only top of the line parts and super attention to detail in the fabrication and assembly.

The first thing that stood out was the flawless finish on the entire trailer, not only the visible trailer box, even the powder coated frame and tongue have a perfect finish. The attention to detail in the fabrication of the trailer was also immediately noticable… all of the welds and corner bends are perfectly clean and smooth. The STOCK 5 lug Aluminum Star Rims with a chrome center cap and chrome lug nuts add a real nice touch to the overall appearance. The inside is completely carpeted with indoor/outdoor carpet for a good look and to help protect your cargo and the trailer box. Also included is foldaway stand and a cooler tray on the tongue (something you do not get standard on most trailers).

Safety was not overlooked by Mini Trailer USA either. The trailer comes with quality 6 ply tires, a sturdy 1-7/8" hitch coupler, secure safety cables, large bright LED tail lights and side reflectors.

Mini Trailer USA claims the trailer is completely water resistant to handle any weather, so I gave it a test. I loaded the trailer with waded up toilet tissue to detect any moisture getting inside and took a high pressure hose to it. I thoroughly sprayed the trailer for over 15 minutes from every direction including from underneath and even directly up into the lid overlap. Not a bit of moisture got inside the trailer. One note… I was told by the manufacturer to be sure to use a small amount of clear silicon sealant on the screws when mounting the luggage rack and the fenders during assembly to prevent any water from getting in around these screws.

Now for the road test- As with any cargo trailer it is not really recommended to pull them empty for a long distance at highway speeds… but I did it anyway just to see how it acted. The trailer is very well balanced with a tongue weight of just 20lbs and most of the weight over the wheels so even empty I noticed very little bouncing of the trailer and absolutely no sway. Next I loaded it up with about 250 lbs of gear bringing the total weight to right around 450 lbs. Moving the weight around and keeping the heavy stuff directly over the wheels I was able to maintain a tongue weight of 23 lbs - even with a loaded cooler on the cooler rack mounted on the trailer tongue. The trailer handled like a dream, most of the time I could not even tell it was behind me. To get a good idea of how well the suspension worked I had a support vehicle follow me to watch the trailer as I went over rough terrain and even intentionally moving the right wheel to the rough shoulder to see how it performed with just one wheel hitting bumps. The suspension handled ANYTHING I would dare go over at any speed on my motorcycle, absorbing all the shock keeping the trailer itself very stable.

Overall I am super impressed with my Shadow Trailer from Mini Trailer USA and highly recommend it for anyone looking for a trailer to pull behind a motorcycle. I have yet to stop without someone coming up to me and complimenting my trailer. I have got to agree... It looks darn good behind my bike!!!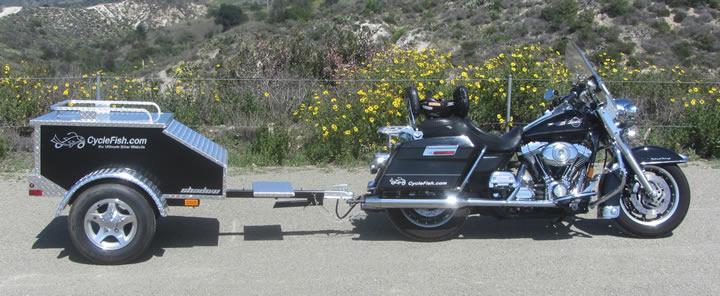 Manufacturer Description and Specifications for the Shadow Motorcycle Trailer:


14 cubic feet of storage

REAL Star Aluminum wheels standard

Independent Torsion axles 600 lb

5 year warranty on axles

Box is all aluminum

OUR LED lights come with a 2-year warranty

THE BLACK SIDES ARE ALUMINUM POWDER COATED BLACK COLOR

5.30-12 6 Ply Tires and wheels

5 lug rims

Star aluminum wheels

Chrome center caps

Chrome lug nuts

Aluminum luggage rack standard

200 lbs empty

Tongue length.....35 inches

1-7/8 coupler

Box 48 long 28 wide 19 deep

Aluminum Cooler Rack standard

2000 lb Safety cable (poly coated)

Tongue stand with latch standard

4 flat male wiring

Wiring harness factory tested

Stainless steel latch with lock and 2 keys

Lid has SINGLE self assisted strut

Box is trimmed in diamond plate

Welded aluminum construction

Tongue weight 17 lbs

Carrying capacity 400 lbs

Interior has Indoor/Outdoor Carpet

60 minutes assembly time

Lower 48 shipping only!

50-state title

5 year limited warranty on workmanship, i.e., welds, etc.
Note: Mini Trailer USA also makes a version of the Shadow trailer in full diamond plate, as well as a number of other motorcycle trailers in different sizes and styles.