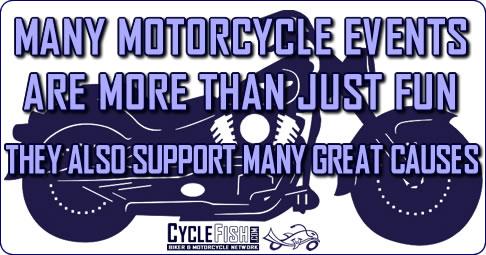 These are unique times where many, if not all, motorcycle events are being cancelled in the interest of public safety. Being one of the most popular and most complete Motorcycle Event Calendars here at CycleFish we have seen almost every event cancelled through the month of March and beyond. For many riders, this means missing a fun event, not getting to ride and not seeing old friends at the rallies.
However, for many organizations it is a lot more than not being able to put on a fun event. There are 1000s of motorcycle events that are substantial fundraisers (and sometimes the only fundraiser of the year) to raise money for their organizations and very good causes. These fundraisers encompass a full range of good causes from individuals raising money for a neighbor or family member in need, to large organizations who help 1000s of people. Some of these events can be re-scheduled, however, many cannot and are raising funds that are needed now, not later.
Here at CycleFish we are working with event promoters to update the status of their events and when possible we are providing information on the event listings to allow the public to make donations directly for events that have been cancelled. So please visit our motorcycle event calendar and check the events that you planned on attending and contributing, to see if that information is available or use the contact info we provide on most events to see if there is a way you can help.
If you know of an charity/fundraiser event that has been canceled and has an alternate method to donate, please let us know... Contact Us