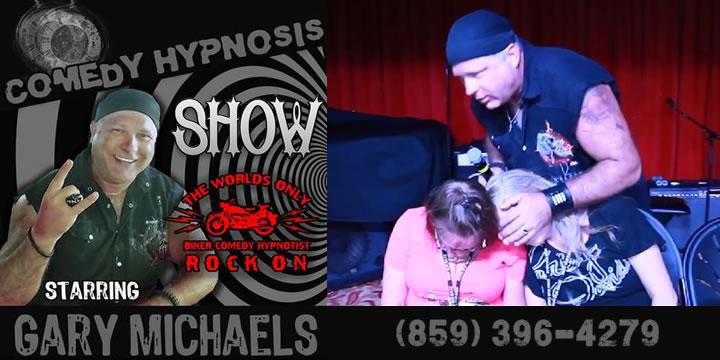 If you ever have the chance to see Gary Michaels, the Biker Hypnotist at a live show, you will absolutely love it. And if you are holding an biker event and looking for unique entertainment, you should definitely consider Gary Michaels, Biker Comedy Hypnotist. Gary puts on a great show that will not only have the audience laughing, but it also allows the audience to participate in the show. You can visit Gary's website here
"The Worlds ONLY Biker Comedy Hypnotist"
Gary Michaels, is the ONLY Biker Comedy Hypnotist in the World and his stage show will NO DOUBT leave you in stitches and have you talking about his performance for years to come.
Gary is not only an accomplished Comedy Hypnotist he is also one of the most recognized voices in the nation as well as an accomplished Magician, Comedian, Voice Over Artist, Narrator, Radio/TV personality, Actor, Master of Ceremonies and also sings in a Rock/Southern Rock/Country band.
Gary hails from Lexington KY and has be the recipient of innumerable accolades, ranging from the Distinguished Service Award for his selfless efforts in raising more than $250,000.00 to help save the life of a terminally ill child in less than a week, to being named the #1 Radio Personality in four states. Gary is sought after by many for his voice as evidenced by his presentations of four different national networks including Ted Nugent's "Spirit of the Wild Show" for the Outdoor Network.
BOOK NOW for your next corporate event, cruise ship, casino, biker rally or any and ALL private parties for an experience that you and your group will NEVER forget!