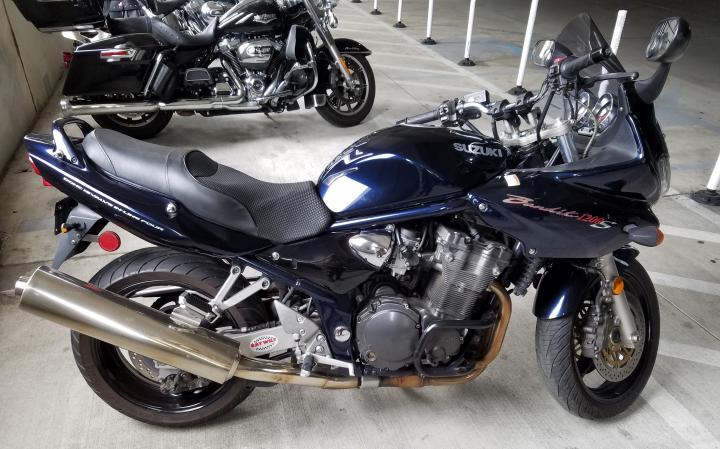 Hi everyone! I recently acquired this beauty! I tried registering at dedicated Bandit forums, but they seem to be rather hesitant to accept new members. Aside from riding, wrenching and writing are my favorite hobbies, so I'm happy to have a found a forum!
I picked this beauty up for just $1500, and her name is Jane. I'm just about done fixing her up! I've done the following since this picture was taken:
New JT sprockets & DID chain
New Continental Motion tires
New EBC front pads
New OEM Suzuki rear pads
Installed Venhill braided steel rear brake and clutch lines
Rebuilt carbs with OEM parts
Rebuilt petcock
Adjusted valves
New spark plugs & air filter
Installed LED flasher (no more fast blink) and hi-vis LED signals
She'll be ready for the road by the end of the week. I've got a Morgan Carbtune Pro and some PAIR block-off plates in the mail for the last two steps before getting her all back together and heading out to break in these tires! She came with the handle bar risers and Sargent seat, but was otherwise delightfully stock. She's a VERY comfortable ride. I like a quiet bike, so I won't be fiddling with the exhaust nor chasing any additional performance. I'm quite content with the OEM configuration.
I've ridden a variety of bikes, but only ever owned Suzuki's (except for a Honda Shadow 750, but I had bought that for my ex - BORING bike, that was). I've had three GS500's, and this Bandit is the biggest, fastest bike I've ever owned and I LOVE it. I've got a GoPro and plan to do some motovlogging. I recorded various steps of the work I did on it that I hope to assemble into an intro video for a youtube channel.
I look forward to getting involved in this forum, thank you all!