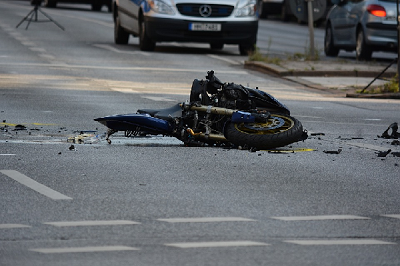 Being involved in a motorbike accident is bad enough; you should not complicate matters further by saying or doing the wrong things. An accident can leave you frazzled and in a state of shock, making it hard to give coherent replies or behave in a responsible manner.

It is important to keep your calm and not act impulsively. A cool mind will help you deal with the situation better.

Motorbike accidents are increasingly becoming common due to the popularity of high-speed superbikes, proliferation of vehicles, and - increasungly more common - the carelessness of car drivers also cause accidents.

Here are a few things you must not do if you are involved in a motorbike accident.

1. Flee the Scene

In many cases, your judgment of the situation is not always be accurate. Even if you feel that your mistake caused the crash, it may not always be true. So never flee the accident site because that could cause you to break the law, as well.

If the other party reports the accident, you will get into trouble - whether you caused the accident or not.

2. React Aggressively

If someone totaled your bike, it gives you a reason to be frustrated. But, if you lose your temper and abuse or attack the other party, then it can be used to build a case against you.

Do not indulge in verbal or physical fighting with any other person who's involved in the accident. Do not damage or cause harm to other vehicles. Stay calm and try to bring the situation under control.

3. Not Call the Police

Police need not be called to the scene if nobody is hurt and if the vehicles can drive away from the site safely. But, if you are hurt or if your vehicle is heavily damaged, it will be sensible to call the police. You must also call 911 if the other driver and/or passengers are hurt.

Other instances where you need to call the cops include if the accident site is in a high-traffic area and the vehicles involved in the crash cannot pull away.

Remember that calling the cops makes it easier to document the incident and provide proof when you raise a claim or seek insurance coverage. The officer who comes to the site will record the details including the names of the drivers and passengers, license numbers, damage caused to vehicles, injuries sustained by those involved and, if necessary, the opinion of the officer as to who is responsible for the crash. You can furnish a copy of the report as supporting evidence when making a claim.

4. Ignore Your Injuries

Another common mistake that motorists make after an accident is ignoring their injuries. Many injuries do not make their presence felt until sometime after they are sustained.

It is extremely important that you seek professional medical help as soon as possible and have a thorough checkup done. Also, ensure that you get a medical report stating the nature and seriousness of your injuries.

In motorbike accidents, injuries to abdomen and chest, though less common, are dangerous. There is the potential for organ damage and internal bleeding. Bone fractures to lower extremities are common crash injuries and are not fatal if dealt with in time.

Maintain a record of all your crash-related medical expenses and payment receipts of treatment received - including that of x-rays, scans, and lab tests.

5. Say the Wrong Things

It is very difficult to keep your cool and manage the situation when you are involved in an accident.

Ensure that you do not say anything that can potentially be used against you. Even a simple apology from your side can be purported as admission of guilt. If an officer present at the site of crash asks whether you are feeling okay and you respond that you are fine, it will be difficult later on to claim for medical expenses. The insurance company will strive to prove that your injuries are not related to the crash or that you sustained them at a later time.

You can check on the other driver, and you must also call the police if required. But be careful to not accept or place blame on others for the accident, or say anything that can be used against you in the future. Also, do not make any unnecessary statements to bystanders or witnesses.

Be polite and courteous, and stick to the facts. Do not give any reason for your words to be used against you.

6. Not Record the Details

It will be a grave mistake if you fail to record the details of the crash. Ensure that you use a camera or your cell phone to click pictures of the site including the damage caused to the vehicles and injuries you sustained.

Do note the make, model, color, and year of the other vehicle/vehicles involved in the crash. Also, ask for the license number and insurance details of the other driver.

If there are witnesses, ask for their contact information too, provided they are willing to be contacted by your motorcycle accident injury attorney. You have to respect their wishes if they do not wish to be a part of potential legal issues.

It is not possible to be completely prepared for an accident, and being involved in one can catch you off guard. But, if you know what you can and cannot do in such a situation, it can spare you from several problems down the line.