Roadshows, Inc. to Manage the Hollister, CA Independence Rally in 2020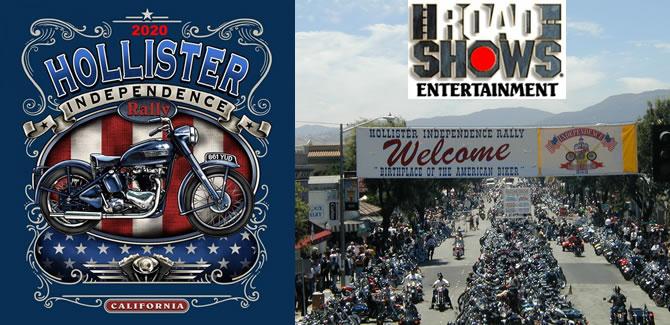 Hollister City Council selected Roadshows, Inc. (producer of Street Vibrations) to manage the Hollister Independence Rally for the next 5 years, 2020 – 2024.
The Hollister Rally began in 1947. It's believed to be the event that gave rise to the "American Biker" and it was the inspiration for the powerful 1953 cult classic movie, "The Wild One," starring Marlon Brando and Lee Marvin. In that film, the cast, wore leather jackets, introduced hipster biker phrases to audiences and defined biker fashion for decades to come. The movie is considered a cultural milestone and motorcycle enthusiasts return to Hollister every 4th of July weekend to celebrate this cultural icon.
The epicenter of the Independence Rally is San Benito Street in downtown Hollister. The rally features all brands of motorcycles, live music, vendors selling motorcycle accessories, and festival foods.
Thousands of motorcycles are anticipated to attend the three-day event. The Independence Rally in Hollister, CA is free for riders of all makes and models of motorcycles and it's free to the public.
For sponsorship and vendor information, please contact Roadshows®, Inc. at 775-690-2035, Email admin@roadshowsreno.com , visit http://hollisterindependencerally.com/ or www.roadshowsreno.com.
For additional information and updates, visit Roadshows Hollister Facebook page at https://www.facebook.com/HollisterindependenceRally
Media Contact Only: Randy Burke, admin@roadshowsreno.com

Public Contact: Roadshows 775-329-7469 www.roadshowsreno.com