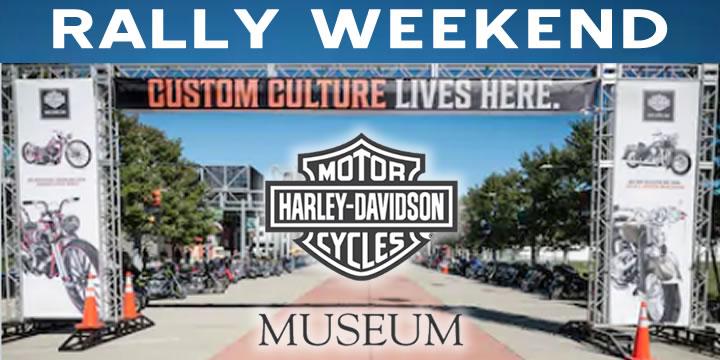 The party of the summer takes place at the Harley-Davidson Museum® over Rally weekend

Plus, a new exhibit and your last chance to catch "Daredevils" highlight a September to remember

Milwaukee, USA (Aug 29, 2019) – Make plans to join the Harley-Davidson Museum Aug. 29 – Sept. 1 during Rally Weekend for free live entertainment from chart-topping musicians, stunt shows, demo rides of select 2020 motorcycles, LiveWire Jumpstart experiences, the H-D Museum's Annual Custom Bike Show, acres and acres of motorcycle thrills, and miles and miles of rolling sculptures.

And this weekend marks one of the last chances to see the scintillating "Daredevils" exhibit (closing Sept. 8) while gallery space is cleared away for the arrival of "Building a Milwaukee Icon: Harley-Davidson's Juneau Avenue Factory," opening Sept. 6. Plus, the life-size LEGO® Harley-Davidson® Fat Boy® is reigning supreme as Milwaukee's must-see attraction and it's found only at the H-D Museum.
RALLY WEEKEND, Aug. 29 – Sept. 1

The H-D Museum – where Harley-Davidson history and custom culture come to life – will serve as the central rally point all-weekend long. In addition to performances from a variety of national, regional and local musicians and artists – all for free on two separate stages – the H.D. Museum will come alive with stunt shows, pinstriping artists exhibiting their mastery, tattooers spilling ink to create that ultimate souvenir and so much more. All outdoor entertainment – including the live music – is free and open to the public.
Some highlights include:
Headline music acts

Thursday, Aug. 29: Big/Gun – An AC/DC Tribute Band (7 p.m.), Led Zeppelin 2 (9 p.m.)
Friday, Aug. 30: The Josephines (7 p.m.), Cold Ford (9 p.m.)
Saturday, Aug. 31: Allen Mack Myers Moore (7 p.m.), Jon Spencer & The Hitmakers (8 p.m.), J Roddy Waltson & The Business (9 p.m.)
Sunday, Sept. 1: ZZ-3 (1:45 p.m.)

Ill Conduct Stunt Shows featuring Cole Freeman, Thu-Sat at noon, 2, 4 and 6 p.m. Sun at 10 a.m., noon, 2 and 3:40 p.m.
Milwaukee Rally Women's Ride, Friday, staging begins at 8 a.m.
The Milwaukee Rally Women's Ride is back! Join your fellow female riders for a great day touring the beautiful roads of southeast Wisconsin. Participants receive a fabulous lunch and more. Staging begins at 8 a.m. at the Harley-Davidson Museum®. Instructions and photos at 9 a.m.; kickstands up 9:30 a.m. Ride is limited to the first 116 women, so buy your tickets fast! Preregistration is required.
Custom Bike Show, Sunday, Sept. 1 (8 a.m.-5 p.m.)
You think your bike is HOT, show it off at the 2019 Harley-Davidson Museum Custom Bike Show! Classes include: Antique, VRSC™, Sidecar, Trike, Full Dresser, Stock Sportster, Stock Big Twin, Show Custom, Custom Touring, Radical Custom, Pro Class and Non-H-D Cool Custom. Proceeds will benefit the BUILD Moto Mentor Program.
Free Demo Rides, Thu-Sat (10 a.m.-3 p.m.)
Be among the first to throw a leg over select 2020 Harley-Davidson motorcycles. Plus, the all-new, all-electric LiveWire™ will be available on the Jumpstart for those wishing to experience the future of Harley-Davidson and thrill of its twist-and-go throttle.
Harley-Davidson® IRONe Demos, Sat (10 a.m.-5 p.m.)
The brand-new electric-powered two-wheelers for kids will once again be available for demos. Families are invited to bring the little ones down to take a spin on the first electric-powered balance bikes for kids with parents who want to share their love for riding.
This weekend also marks one of the final times you can take in the thrill, chills and spills found in the H-D Museum's special summer exhibit, "Daredevils: A Century of Spine-Tingling Spectacles" before it closes September 8.