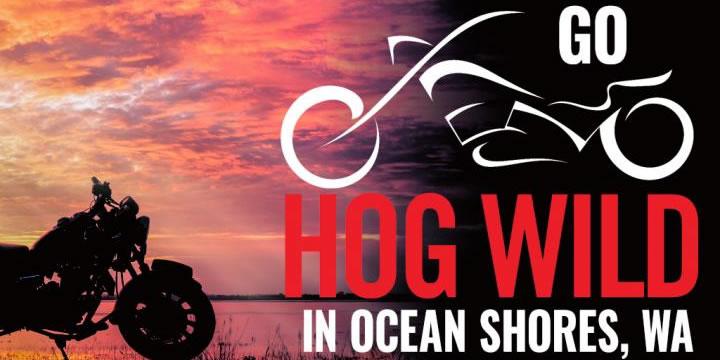 Ocean Shores, Washington – June 14, 2019 – Ocean Shores is WILD over Hog Wild Ocean Shores.
What started as a grass roots effort to keep a long-standing motorcycle rally in Ocean Shores has grown into wonderful partnerships with Quinault Beach Resort and Casino, Westport and Hoquiam.
Tuesday night, June 11th, approximately 70 residents were in attendance at the Ocean Shores Convention Center to show support for the upcoming motorcycle festival taking place July 26th-28th in Ocean Shores. "There has been a motorcycle rally in Ocean Shores for more than 30 years, and when it looked like it may not happen this year when the promoter had to cancel, the city had to make a quick decision on what to do next" stated Jon Martin who is mayor pro tem and also manages two businesses in town.
A quick meeting was scheduled with several local businesses and the Quinault Beach Resort & Casino who also holds a rally that same weekend. "The enthusiasm was great. Everyone was on board with making sure the festival continued and grew" said Mayor Crystal Dingler. So move forward it did! Vendors were contacted. The bike stunt teams were all thrilled to be coming back. And more than 30 local businesses are officially sponsoring the event in some way!
"The Quinault Beach Resort & Casino has been a valued partner in this" stated Jon Martin. "Their staff has worked endless hours to help make sure that all of the promotional materials look great. This was all done on some tough deadlines and we couldn't have accomplished it without their support."
As in past years, the bike parade will begin in Hoquiam and work its way down to Ocean Shores. There will be a poker run that will include businesses in Westport and run up to The Green Lantern. The goal is to make this an event that encompasses many cities and stops along the way. Can you say "Sturgis of the West Coast?"
You'll want to come hungry as there will be many food trucks! So far we have BBQ, Burgers, Funnel Cakes, Pizza and still more to come! There will be something for everyone you might be shopping for!
Come hear the music at Hog Wild especially if you are fans of Leon Harder, Dusty Mojo, DJ Abel and Stefan Roland & Working Class Heroes.
You won't want to miss the motorcycle stunt teams! The Cossacks, 1 Wheel Revolution, and the Tenino Drill Team will be here. We're thrilled they all chose to come back this year.
For more information please contact Diane Solem, General Manager, Ocean Shores Convention Center & Tourism, dsolem@osgov.com, 360-289-4411.