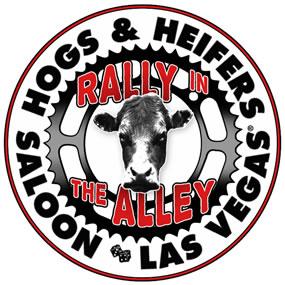 2018 HOGS & HEIFERS
RALLY IN THE ALLEY
October 10 - October 14

Hogs & Heifers Rally in the Alley Expands Again in 2018
September 18, 2018 - Las Vegas, NV - Las Vegas Bike Week brings tens of thousands of motorcycle riders from all over the world and the majority of those find their way to the Legendary Hogs & Heifers Saloon. Hogs & Heifers has been featuring its annual Rally in the Alley party during Las Vegas Bike Week since opening in 2005. Rally in the Alley has grown significantly in the past three years pouring over from 3rd Street to Ogden Avenue, with this years event adding two additional vendor areas right off Ogden Avenue. Sponsored by Russ Brown Motorcycle Attorneys, Leather Headquarters, Sin City Indian Motorcycle and Klock Werks, the 2018 Rally in the Alley will house almost 40 vendors.
The ever-so-popular Hogs & Heifers outside Roadshow Bar will once again feature 16 plus bartenders dancing and slinging drinks. Evil Empire Designs will be back to host their all-female "Babes in the Alley" bike show Friday, October 12 from 5pm until 8:30pm. V-Twin Visionary will be hosting their "FXR/DYNA" bike show on Saturday, October 13 from noon until 4pm. The infamous Jack Schit will be back to co-emcee another year.
Whether they are in town to ride, shop or party, this free-to-attendees event has grown to be a favorite destination for motorcyclists in town during bike week. It's easy to see why Las Vegas Bike Week attendees consider Rally in the Alley the best party going!
Make sure you get in by the evening of October 10th for Hogs & Heifers Saloon's 13th Anniversary Party and Kick-Off Party for Rally in the Alley!
Book your rooms now at our sponsoring hotels, the Downtown Grand and the Fremont Hotel & Casino, you'll be steps away from the best party in town!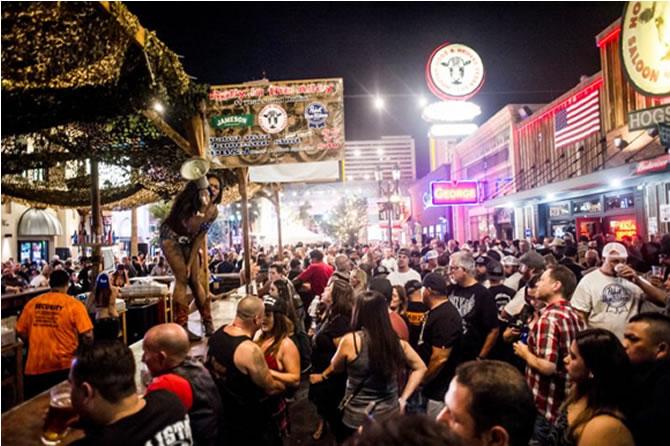 About Hogs & Heifers Saloon - Las Vegas
In 2003, the city of Las Vegas came knocking at the front door of Hogs & Heifers Saloon New York looking for a diamond in the rough to help launch its Downtown revitalization project. Loving the odds, Hogs & Heifers Saloon owner, Michelle Dell rolled the dice, opening Hogs & Heifers Saloon Las Vegas in 2005. Michelle continues to be the heart and soul behind the daily mayhem that is Hogs & Heifers Saloon. Hogs & Heifers Saloon hosts multiple events throughout the year, many of these events benefit charities such as the Nevada Childhood Cancer Foundation, Las Vegas Firefighter Benefit Association and the Love, Hope, Strength Foundation.
Media Contact: Penny Osiecki, Events Director
702-279-5332 - penny@hogsandheifers.com
More info Las Vegas BikeFest