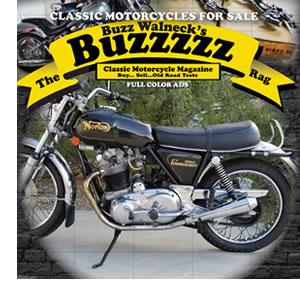 Get a Free Sample of the Buzz Walneck's famous Buzzzzz Rag here: http://buzzzzzrag.com/freerag/ If you like it we have a "Special" going. $12.00 a year with 12-issues and A FREE COLOR photo ad ! (Worth $ 25.00) Call Buzz Walneck at (630) 985–2097 or Pay Pal to: Pixiebuzz@comcast.net. "Try it . . . You'll Like IT "
Buzz & Pixie Walneck started the classic motorcycle business in 1978 and put out a flyer on what used parts they had for sale. It eventually grew into the very popular "Walneck's Classic Cycle Trader" (now called Now called The Buzzzzz Rag) magazine with bikes for sale, parts, dealers, old road tests and much more. With the changing times Buzz has stopped printing and mailing The Buzzzzz Rag and it is now available online only.
In addition to the magazine the Walnecks started putting on a motorcycle swap meet at Santa Fe Speedway in Chicago about 1980. With tons of old motorcycles and parts as well as family fun the swap meet grew to be one of the most popular of its kind. The Walnecks Swap Meets continue to grow and are promoting 16-motorcycle swap meets per year in the Midwest area.
It's still fun, even after all these years, and still done by the same family, Buzz, Pixie, Ed, and Mandy Walneck.