The Oldest Town in Texas Rally (OTT Rally) has be canceled for 2018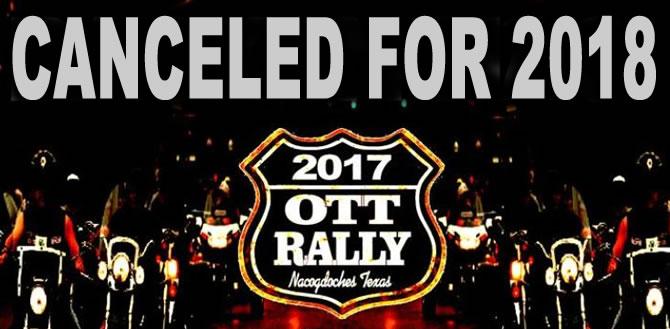 We just read this message from the OTT organizers...
It is with great sadness that we announce that the Oldest Town in Texas Motorcycle Rally & BBQ Cook Off will not be returning to Nacogdoches for 2018. It has been a huge honor for our family to bring this great event to Nacogdoches for the past nine years. And should the situation change, we would like nothing more than to bring it back in 2019!
There are so many people to thank for nearly a decade of support but we're going to give it a shot. First of all, our amazing bikers that supported this event come fire or rain, which we had a lot of both over the years, and still you came. All of our vendors as well. You were there come good or bad to ride it out and support OTT, and for that we thank you. And of course our kick butt OTT BBQ Cook Off teams! Wow have some memories ever been made on that parking lot. Thanks to all of you for your support, and for making smoke these past years. To our many entertainers, way to many to count, thank you for nearly a decade of kick butt music.
We had some amazing sponsors as well that kept the OTT going for nearly a decade. Locally, Budweiser and R&K Distributors have supported this event from day one. Lumberjack Harley-Davidson was also a huge supporter of OTT. We could have not brought the OTT Rally to this community without the help of these great sponsors and many more over these past years. They realized what a great event it was, and what it brought to the community.
Next, our amazing friends with the CMA. This great group of men and women have worked this event from the very beginning, and done an outstanding job. We would also like to thank the Nac Expo. Since year one they have worked their tails off to provide the OTT with whatever it needed to insure a smooth running, successful event.
We have met a lot of amazing people from all cultures since OTT began, and it has been one hell of a ride. One thing we learned along the way, that nobody is quicker to step up and support a just cause like the biker community is. We were proud to have been a part of, and contribute to many of those causes since 2009. Again, as mentioned above, we look forward to the possibility of bringing the OTT Rally back in 2019!
We would like to once again thank everyone that has played any part in the OTT Rally with all our heart. It has been our pleasure to bring the OTT Motorcycle Rally & BBQ Cook Off to East Texas. And if it's in God's plans, we will be back.