Old Time Biker Steps Up for Bikers Who Lost Money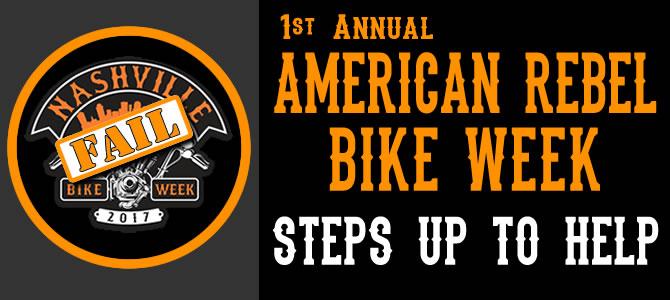 If you have been following the saga of the much hyped Nashville Bike Week you know there has been nothing but problems from the get go - many even wonder if there was ever going to be an event, or if was just a scam from the beginning. They lost at least 4 venues for various reasons, had numerous issues with permitting and to top it off the guy in charge - Michael Leffingwell (a.k.a. Mike Axel) - was arrested on outstanding warrents from multiple states. You can follow some of the news articles on Nashville Bike Week here.
The last venue contracted to host Nashville Bike Week - American Rebel Off Road Park in Waynesboro, TN had also pulled out after discussions with local officials and legal counsel. However Stan Chiras, the owner of American Rebel Park and long time biker, felt bad for the 1000s of bikers who had already bought tickets for Nashville Bike Week and were looking at very slim chances of getting any of their money back, so he stepped up.
Stan has announced not only hold the 1st Annual American Bike Week, he will also be giving anyone who bougt a ticket to Nashville Bike Week FREE entry to the event!
Chiras' statement reads, in full:
After discussions with State and local officials, and consulting with legal counsel, American Rebel Off Road Park is withdrawing as a venue for Nashville Bike Week and Superflow Entertainment.
It became obvious that with the time remaining until the event date, there is no way to meet the promises made by Superflow Entertainment to its customers. There was also no feasible way to meet the statutory guidelines required by the State of Tennessee for permitting an event of this size.
When I entered into discussion with Nashville Bike Week my intent was to contribute to saving this event for the over 4,000 fellow bikers who had already paid in advance for this event. I deeply regret this could not work out.
I would like to extend an invitation to anyone who paid for this event to come to Tennessee and enjoy our hospitality and all that our county and State has to offer. You're welcome to come and stay here at no charge.
Sincerely,
Stan Chiras
American Rebel Off Road Park
American Relel Bike Week will be held on September 14 - 24 and include Concerts Biker Games, Contests, Great Camping, Vendors and Lots More. Plus the riding in this area to die for!
Stan is also hoping to make this an Annual event bringing bikers back to the area each year.
More info on the American Rebel Bike Week