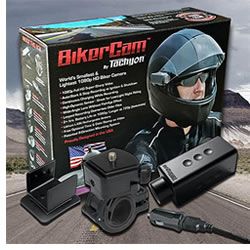 Product: BikerCam - 1080p Full HD
Manufacturer: TACHYON, Inc
Product Website: http://www.tachyoninc.com/bikercam.php
Cost (MSRP): $229.99
Reviewed By: Lucky
Overall Rating: Excellent
Where to Buy: tachyoninc.com amazon.com
A while back we reviewed the original BikerCam from Tachyon. Now Tachyon has just released there new 1080p Full HD BikerCam and has asked us to take a look at it.
Manufacturers Description:
The ultimate video cam for bikers to record their greatest rides. Continuously charge while you record. Auto start and stop camera with your engine. Looped recording. Brilliant, sharp, full HD video. Protected from the elements by a rainproof cover. Mount on helmets, handlebars, engine guards, sissy bars, luggage racks. BikerCam is also perfect as a dash cam in your car.
• 1080p Full HD Super-Sharp Video • Auto Stop & Start Recording with Motorcycle Ingnition System
• Continuous Charging While Recording • Looped Recording Overwrites Older Files
• High-Dynamic Sensor - Great for Low-Light Night Riding • Wide-Angle Lens Without Fish-Eye Effect
• 2+ Hours Recording Time on Battery at 1080p • Longer Recording Time at 720p (Switchable Option)
• Cover for Rain & Dust Protection • Free Optional Date & Time Stamp • Patented 8-Direction Mounting System



Review:
The TACHYON BikerCam came complete with everything needed to easily install the camera on my bike and begin filming within minutes. In the box was, of course, the camera, along with three different types of camera mounts (a tripod mount with an attaching handlebar clamp, a contour mount to attach to a hemet and a clip mount that can be clipped on just about anything); 3M Dual Lock fastening strip; a rain proof cover; 12V charger (cigarette lighter style plug); USB cable; and the optional 16BG micro memory card.
The TACHYON BikerCam is one of the easiest cameras to use that I have found. It is basically a one-button operation; push the button once to start recording, push it again to stop. There are two other small buttons on the camera: one to change modes from 1080p to 720p when recording lenght is more important; and another button to set the camera in auto On/Off mode that when connected to a switched 12v on your motorcycle the BikerCam will automatically start recording when the ignition is turned on, and stop recording when the ignition is turned off.
The camera has an internal battery that lasted just a little over 2 hours when I was recording at 1080p and just over 3.5 hours when I was recording at 720p. Charging is simple and just a matter of connecting the 12v adapter or plugging in the USB cable. You can also run the camera connected via the 12v adapter connected for unlimited recording time.
Downloading the videos is very simple too... just remove the micro card and insert it into an adapter and plug it in to your computer's SD card slot (or external SD card reader). The videos are saved on the camera as standard .MOV files so they can be viewed with pretty much any movie player. The great thing about the camera is that it stores the videos in indivual files of 15 minutes recordings - every 15 minutes the file is saved and a new file is started. This makes the video very easy to edit using any video editing software, including Windows Movie Maker which is included with all new versions of Windows.
To be honest I was perfectly happy with the original BikerCam I had and when Tachyon told me they were coming out with a 1080p Full HD version my first thought was "Why?", the quality of the camera I had was just fine. That was until I saw the video that came off the new 1080p camera. The quality is amazing even when I play back the videos on my 52" TV.

Overall based on price, video quality, ease of use, and accessories included - I find the TACHYON BikerCam one of the best values on the market for a motorcycle/helmet mounted video camera.
----------------------------------------------------------------------------------------------------------------------------------------------------------------------
Note: Please only use the comment area on this product review if you have actually tried this product and would like to share your experience or opinion of it.